Welcome to the visitors from over 61 countries world-wide that visit our site each month.
Colin Maxwell BSc BA: colin@triune-being.com
Agnnes Kraweck PhD: agnnes@triune-being.com
(Please leave a phone or fax number if possible for Dr. Kraweck to contact you.)
Triune-Being Research Organization Ltd.
9549 107th Avenue, Edmonton, Alberta, T5H 0T6
Canada
Phone: 780-421-4284 Fax: please call for number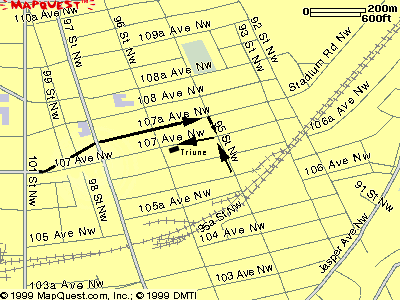 Directions: We are on 107th Ave between 95th and 96th Street. Enter from 95th St as 107th Ave is one way going West. We are opposite the front of McCauley School.
Aerial view of office in downtown Edmonton.


e-mail: triune@triune-being.com
Please e-mail in English, Spanish, French, or German.
Design and Copyright by Colin Maxwell. All rights reserved.